Activities
Whitewater Rafting, Drift Boat Fishing and Hiking on the Middle Fork of the Salmon River in Idaho
A rafting trip on the Middle Fork of the Salmon River in Idaho offers some of the best scenic wilderness white water rafting in the country and much more. Drift Boat Fishing, paddle rafting, inflatable kayaking and Standup Surfing make the expereince all the more adventure. Between river activities be sure to stop and enjoy the scenery and the gourmet food! Please scroll down page to see river craft choices or see them on our photo library.

On every trip (except high water in June) we bring along a 16 foot McKenzie Drift Boat or fishing raft with large casting braces to share among the group. In September, we have specific fishing dates with a 2 to 1 Fishermen to Guide ratio. The Middle Fork is a fisherman's paradise, a blue ribbon fishery and all fish are natives - Cutthroat Trout, Rainbows and Dolly Varden. Special fishing regulations protect the Middle Fork and help restore the fish population - (catch-and-release, no live bait, single barbless hooks.) The Middle Fork is the premier fishing experience. An Idaho State fishing license is required and may be purchased in Stanley, Idaho before the trip. Fishing is superb. [MORE]
Fishing Dates

For the September Fishing dates, all trips are designed for 2 fishermen/boat so both can cast from the boat. We offer 4 or 7 day trip lengths. Usually the water is too low to use our drift boats so we bring 17' Maravia Rubber Oar boats which have rotating seats attached to the rafts. We bring a maximum of 6 fishing boats/trip or 12 fishermen.

River Craft Options
Middle Fork rapids are rated 1 to 4 on a scale of 1 to 6 and the Main Salmon is rated 1 to 3. You'll run these rapids with the aid of experienced, professional, licensed guides. In our state-of-the-art whitewater rafts, you'll run lots of fun rapids, including Velvet Falls, Pistol Creek, Haystack, Redside and Rubber rapids.
Photos for all boat options are at the bottom of the page. Most guests ride in our oar powered Maravia 17 foot self bailers. For the more adventurous we run a paddle boat, as your boatman steers at the stern while you and your new-found friends paddle. And when water levels permit (mostly July and August only) you can try out our single inflatable kayaks. New this year we have a Stand Up Paddling (SUP) Surf Board with a paddle to try on some of the flatwater sections and around the eddy's next to camp. We also use a large baggage boat that runs ahead of our group to start putting up camp.
River Requirements: Middle Fork minimum age is 12 in June, and 6 in July and August. Minimum age for the Main Salmon is 5 years old in July and August. Please note, all participants must be able to swim, be in good physical shape and be able to self rescue.
Hiking & Hot Springs
There is plenty of time and numerous opportunities to hike and visit hot springs during your trip. There are six hot springson on the Middle Fork and 1 on the Main Salmon to visit and we try to camp at or near at least one during our trip. Time and logistics permitting we hike to waterfalls, scenic grottos, Indian paintings & pithouses and old miner's cabins in a given day.
Wildlife
There is abundant wildlife in the canyons of the Middle Fork and Main Salmon River. You can see bear, mountain goat, mountain bighorn sheep, bald and golden eagles, river otters, mule and whitetail deer, Chinook salmon Spawning beds and a whole lot more!
Click on this link for a pdf Forest Service Animal List.

Camping
This is one of the best parts of the trip, to be lullabied to sleep by the sound of the river. We provide all camping gear for you, including a sleeping bag, 2 pads, pillow, rain gear and all camp equipment. We provide Kelty 4 man tents for 1 or 2 people. We provide a ridgerest pad and a thermarest pad (total thickness 2") for each guest.
In the evening, we set up a camp and have chairs to relax in for meals. We bring along a wilderness porta-potty and place it in a private place with stunning views. We practice Leave No Trace camping ethics, so you are sure to learn a lot about this on the trip and be able to take some of these new skills home with you.

Food
We provide healthy and delicious meals, accompanied with lots of salads, fresh fruits and vegetables. We also use as much organic produce/products as is available. Our goal is to have you eat healthy meals so that you feel good and refreshed during the day with lots of energy for fun in this remote wilderness setting. If you would like a copy of our menu please call us. Vegetarian's, Vegan's and Non-gluten folks are welcome and meat eaters alike!


Kayak Support & Clinics
We provide raft support for hard-shell kayaks and canoes. We take all the gear and do all the camp work so you can play during the day and relax at night. We also do kayak teaching clinics in partnership with Tarkio Kayak Adventures for at least one trip early in the season, usually the end of June.
Yoga
We often have time in the mornings for stretching and yoga while the guides rig their boats, so please join us only if you feel like it.
Boat Options Available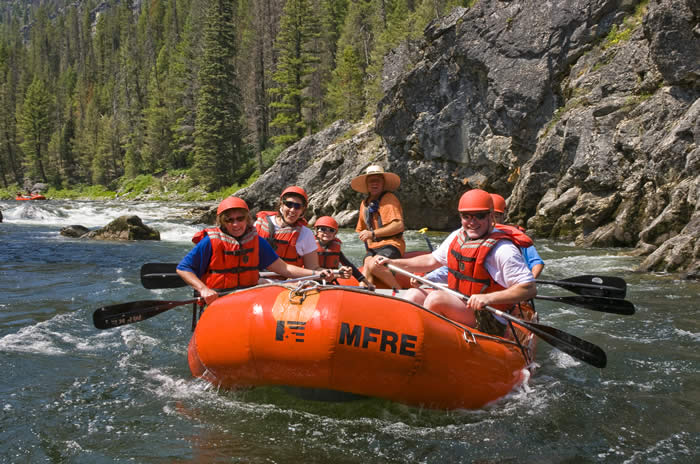 PADDLE BOAT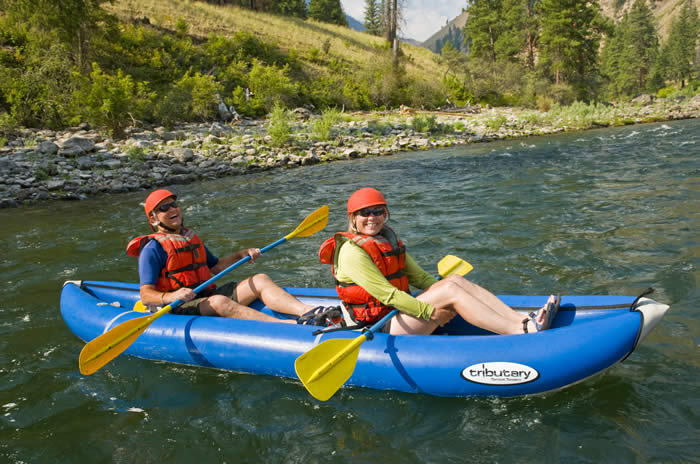 2 MAN INFLATABLE KAYAK (WE ALSO BRING SINGLE KAYAKS AS WELL)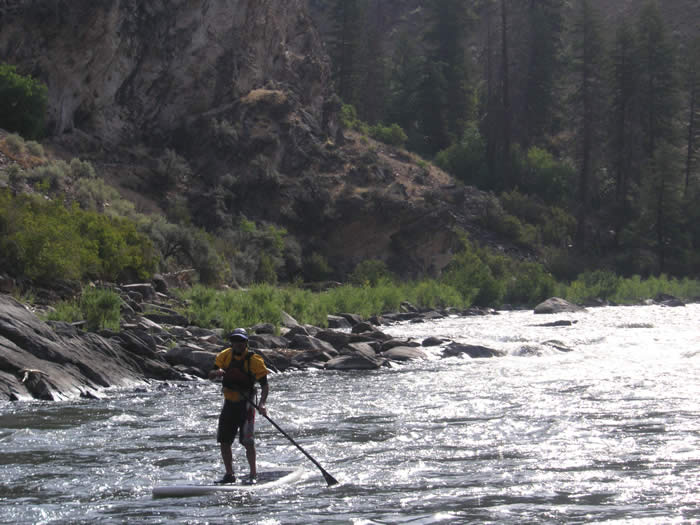 STAND UP PADDLING (SUP)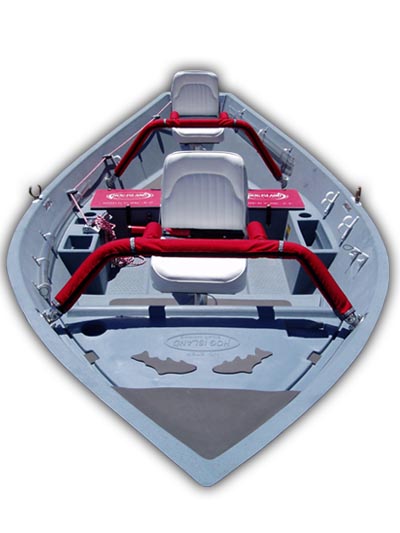 16' Drift Boat - Middle Fork Salmon River only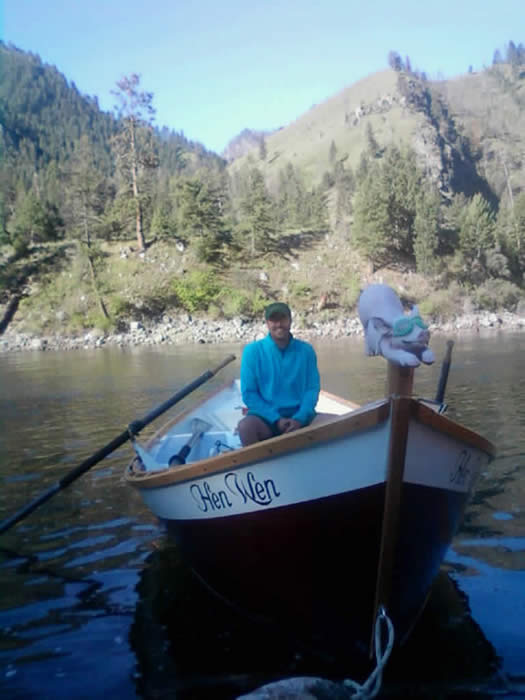 18' Wooden Dory - Main Salmon River Only
OAR BOAT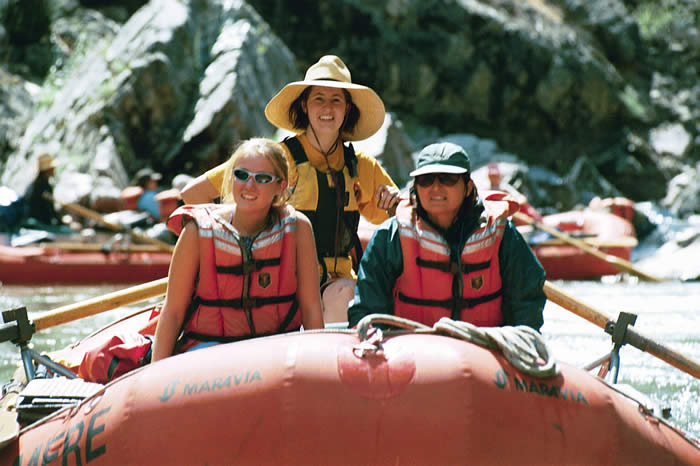 Fishing Oar Boat with Swivel Seats- Used in Sept only on Middle Fork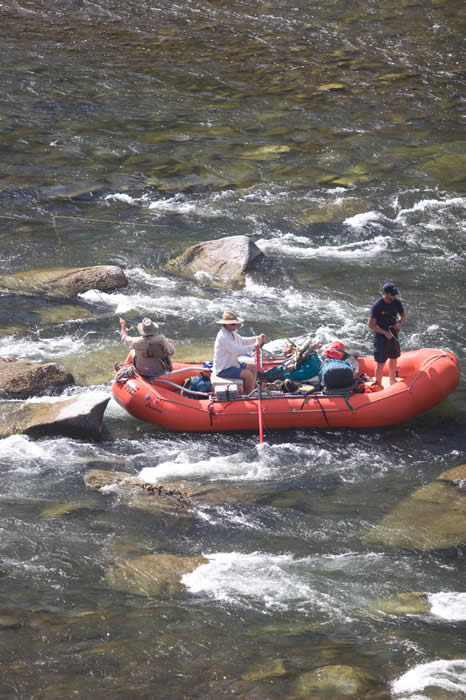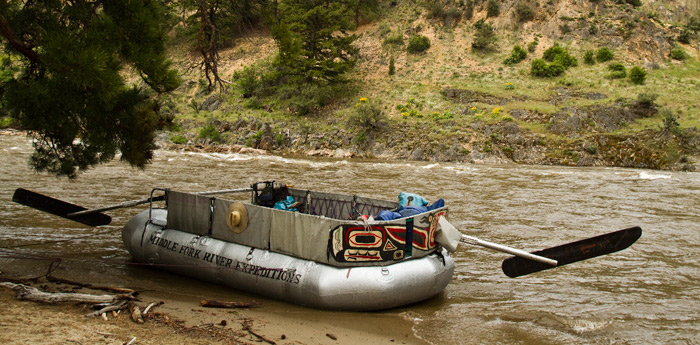 Fiona, the MFRE Sweep Boat for gear only.