Madeline Martin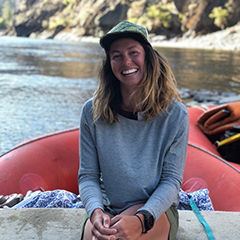 When asked why she does it, she replies "to share the magic." The magic of silence when gazing at an Idaho night sky, the magic of laughter as the boat rolls through crashing river waves, the magic of team work and camaraderie brought about by shared goals in the outdoors, the magic of boat side conversations and wistful watching of the passing water, the magic of a nourishing meal on the river, the magic of sleeping outside with nothing to separate you from the stars.
Madeline has grown up an American mutt having split her childhood among the lakes of northern Michigan, the marshes of the South Carolinian coast and mountains of Steamboat Springs, Colorado. Despite her affinity for these incredible places, she chooses to spend her summers in the deeper parts of Idaho's wilderness. She first came to Idaho in summers while attending Quest University in Squamish, British Colombia. At Quest, she studied/ Earth Sciences and conducted original field research on an alpine lake between Vancouver and Whistler. Upon graduating she has started working full time as Ski Patroller at Castle Mountain in Alberta, which has enriched her interest in snow science and
avalanche hazard management. In this position, she has additionally gained experience as a medical first responder to compliment her training as an EMT. She is an avid traveller, apprentice yoga teacher, eager geologizer, professional child entertainer, and dutch oven baking enthusiast.