Clothing List
MFRE Clothing List
Weather
Idaho weather can be variable and vigorous. So come prepared with warm and cold weather clothing. There is no such thing as bad weather if you bring the right clothing. Synthetics are best for layering and keeping you warm in all weather conditions. Weather during the daytime is 70-90F and evenings 40-60F. The easiest way to think of river trip clothing is having both daytime "river" clothes which are synthetic and dry camp clothes which are cotton and more comfortable. The daytime clothes will get wet while rafting and your camp clothes will be dry for camp. Have a back up set for both and you will be very well prepared. Most people agree they brought way too many things on the trip.
Below is our recommended clothing and equipment list. If you bring what's on the list you will be all set for the trip. If it rains at camp we set up large tarps so everyone stays dry and have a roaring fire to keep warm if it's chilly. During the day, the oar rafts have large umbrellas that can be used in addition to your splash gear.
We Supply
Large rectangular freshly washed sleeping bag (rated 30F)
2" thick "Paco" sleeping pad
Pillow (this is a camp pillow- 10" x 12", so if you want a full sized pillow please bring it).
Splash gear (jacket and pants) for daytime
3 Dry Bags (1 for sleep kit, 1 for evening gear, 1 small for daytime gear)
Kelty Gunnison 4.1 tents (4 man tents for 1-2 people)
Farmer John wetsuit (when needed in June and early July)
Waterproof socks and neoprene gloves (for June and early July trips only or if cold sensitive)
Life Jacket (Type V)
Helmets (for inflatable kayaks and paddle raft)
All water craft and commissary equipment, including camp chairs
MFRE coffee mug– a gift for you to take home
You Bring
Sarong or quick dry towel (good for sun, drying off or changing clothes)
Water bottle with carabiner
Personal toiletry items
Biodegradable soap (no bathing within 100 feet of any water source is allowed)
Sunscreen lotion and chapstick
Sunglasses with retainer
Sun hat (baseball hat ok, but larger full brim better with chin strap is better)
Bathing suit (women bring a two piece swimsuit for ease of going pee)
Women- Sun Dress for camp. It can be hot at night and this is nice and light.
Socks – 4 pair (2 cotton for camp, 2 synthetic for hiking)
T-shirts – 3 (two cotton for evenings and one synthetic for daytime)
Long sleeved shirts – 2 (one cotton for evenings and one synthetic SPF sun shirt for daytime)
Long pants – 1 (Can be synthetic or cotton or jeans)
Shorts – 2 (one cotton for evenings and one synthetic for daytime)
Underwear – assorted (cotton for evening and silk/synthetic for daytime)
Rain jacket (we provide splash gear tops and bottoms for daytime but nice to have a dry rain jacket at camp)
Medium weight fleece or sweater
Shoes – dry shoes for camp (lightweight hiking boots or tennis shoes)
Shoes – river shoes (with toe coverage is best) by Astral or other company
Camera and spare battery
Headlamp (better than flashlight for getting into dry bags at night!)
Optional
Ziploc bags – handy for small items or to isolate wet articles from rest of gear
Olay face wipes or other brand for cleaning face
Fishing fly rod in sturdy hard case
Fishing license (only if you are fishing- remember days 1-5 only)
Shoes- flip flop sandals (for drying out feet at camp)
Full sized pillow
Collapsible Pee Cup for evening if you tend to wake up at night as the river or high water line can be far away at night and at times walking over un-even terrain)
** May/June & Sept/Oct trips- bring ski type jacket, a ski hat, camp gloves, 1 pair of synthetic long john top and bottoms, and fleece type pants.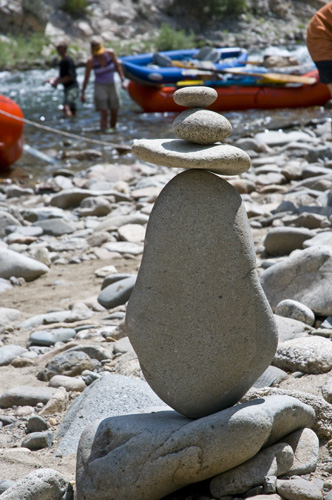 Proper Clothing is essential.  If you follow the MFRE clothing list you will be well prepared.  There is no such thing as bad weather, just bad clothing.  So please follow the Clothing List and you will be all set.  We have put together the Clothing List based on many decades of running these trips, so please follow the clothing list.