Sarah Linville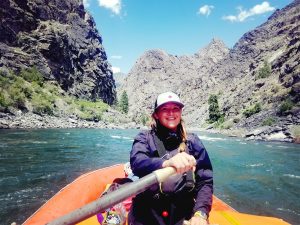 Sarah Linville grew up along the Wasatch Mountains in Utah. She then attended Northern Arizona University in Flagstaff where she studied Journalism and Environmental Communications.
She followed her brother to Idaho for a summer job and never left. Her first real experiences with rivers was learning to raft guide on the headwaters of the Salmon River out of Stanley, Idaho in 2012. Her first season with MFRE was 2016.
She loves guiding on both the Main Salmon and the Middle Fork of the Salmon because they're some of the few places left that still offer true opportunities for connection and challenge with astounding nature of the American West.
She feels privileged to be able to share the spectacular experience of the Salmon River with others and hopes they will cultivate a space in their hearts for its legacy and protection.
Sarah spends her down time with her husband Matt and her two dogs, Blaze and Ivy. In the Winter time she can be found usually on Bald Mountain in Ketchum, Idaho working for the Sun Valley Ski Patrol.