Helfrich
by
James Ellsworth
on
March 11th, 2013
If there is one legacy that is remembered and kept alive on the Middle Fork of the Salmon, it is that of the Helfrich family. Back in 1925, Prince Helfrich and his canyon comrades were the first to run a commercial trip down the Middle Fork. Helfrich launched their fleet of Mckenzie River drift boats at the head waters in Bear Valley Creek. After rowing 20 miles of technical whitewater, the boys would spend a long day portaging their wooden boats around Dagger Falls. At the time, they probably had no idea they were starting a legacy for what would later be remembered as the premiere wilderness river trip in the lower 48. Helfrich and company had many intentions while embarking on this daunting endeavor, and catching fish came first and foremost.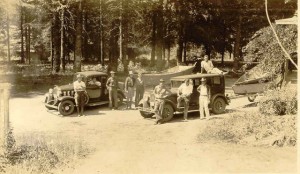 The Helfrich legacy has been passed down through four generations on the Middle Fork of the Salmon, and is owner and outfitter to three commercial launches separately run by different family members. Helfrich continues to offer exclusive fly fishing trips run only by the most skilled drift boat guides, many who still choose to run traditional Mckenzie wood boats. Planning a trip with Helfrich is a great idea if your plans don't match with MFRE, and your looking for a first class fly fishing trip on the Middle Fork.
Join MFRE on the Middle Fork for the fly fishing experience of a lifetime. Drift Boat fishing the corridor in September is a time when the Cutthroat are consistent and boats on the water are scarce. MFRE is one of the few outfitters offering guided drift boat fly fishing trips on the Middle Fork this late in the year.
Give us a Shout!
Sparrow