Mountain Travel Sobek
by
James Ellsworth
on
March 13th, 2013
The Egyptian God Sobek was believed to control the waters of the Nile River. He was depicted as a man with the head of a crocodile, and was worshiped to ensure fertility for crops and mankind. The waters of the Nile were filled with crocodiles and feared by most, so it made sense to appease them through the worship of their leader. According to legend, Sobek was a fourfold deity representing the four elemental gods: Rha of fire, Shu of air, Geb of earth and Osiris of water.
During the early 70's, John Yost and Richard Bangs co-founded Sobek Expeditions, the first multinational rafting business. The name most likely came from the close encounters with crocs they experienced while running exploratory trips on the Nile and Zambezi in Africa. Sobek would later be recognized as the leader in commercial exploratory rafting adventures around the globe; claiming to have bagged around 35 international first descents including the Bio Bio in Chile, and the Yangze in China.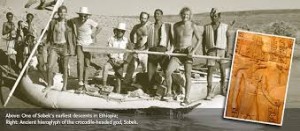 In the early 1990's, Sobek merged with Mt. Travel to become Mountain Travel Sobek, still recognized as a leader in international adventure and eco-travel. Mt. Travel Sobek has expanded their focus away from solely running river trips, to offer an array of sea kayaking, trekking, and other cultural experiences. It makes perfect sense that a company like Mt. Travel Sobek would be savvy to the world's most renowned rivers, explaining why they offer trips on the Middle Fork of the Salmon. In 1999, Mt Travel Sobek started operating in the Frank Church Wilderness, and continues to run quality wilderness river trips through the Middle Fork corridor. Rest assured your in good hands with Sobek if MFRE's launch dates don't correspond with your plans; these guys have been outfitting this class of adventure longer than most.
Sparrow