MFRE Expedition Leaders
Middle Fork River Expeditions attracts gifted guides for whom leading trips is their passion. Middle Fork River Expeditions guides positively elevate your experience by being educators, companions, and the best of friends. Most MFRE guides have 10 or more years experience on rivers and all are First Aid and most are Swiftwater Rescue V Certified thru Wilderness Rescue International. All Guides are also licensed by the Idaho Outfitters and Guides Licensing Board.

Wilderness Rescue International is owned and run by professional rescuers and adventure guides. Their mission is simple: To be the leading source of wilderness emergency training. We achieve this through developing and presenting specialized training programs and providing customized educational opportunities to agencies throughout the world. By introducing cutting-edge rescue techniques using intentional methodologies, Wilderness Rescue can offer some of the most instrumental experiences in a developing rescuer's career.
James Ellsworth, owner
James has a passion for wilderness rivers and teaching people about the natural world. James has a masters degree in Physical Geography with a focus on landform processes. He has worked (as both an expedition leader and manager) in the international Adventure Travel industry for over two decades, and has owned MFRE since 2007 after working on the Middle Fork since 2000. Although James has rafted throughout the globe, he has a special place in his heart for the Salmon River canyons which he enjoys to share with all who travel with MFRE. James is currenlty President of the Middle Fork Outfitters Association and on the President's Council board of The Wilderness Society.
---
Scott Jernigan
Link to You Tube Video of Scott on The Wilderness Society Aug 2011 Departure
Scott has guided on the Middle Fork for a decade and runs our Sweep Boat. Everyone who meets him loves his true southern gentleman approach. He grew up in South Carolina playing in creeks, farm ponds, saltwater marshes, and the Atlantic. Graduated from the College of Charleston (where locals say the Ashley and Cooper rivers meet to form the Atlantic ocean) with a degree in anthropology and moved to the Appalachian mountains where he kayaked and started guiding. During the winters he traveled and guided in South and Central America before heading west to the Middle Fork. The past few winters have found him in the headwaters of the Snake river in Jackson Hole practicing yoga and massage. Scott loves the communal aspect of our trips and feels blessed to share in so many peoples river experience. An experience made full by good friends, healthy food, clean water and air, and of course playing in beautiful places.
---
Scott Wilson
Scott first discovered his passion for the river from the seat of a whitewater kayak and began guiding commercially when he was 17 years old. His expertise in navigating whitewater has evolved such that one can safely assume he is right at home in any craft capable of floating down the river. Scott truly loves running drift boats and never grows tired of seeking out fishing opportunities for our guests. He has worked on rivers in Idaho for the last 15 years and we are happy he found his home at MFRE. Scott lives in Silver Fork, Utah when not guiding, where he is working on a nursing degree at the University of Utah. He has guided and kayaked throughout the Americas but still loves guiding on the Middle Fork the best. He is Swift Water Rescue certified and is very skilled at river safety. After a fun filled day of floating, he finds peace relaxing by the campfire, singing and playing the guitar. Living and working on the river only accentuates his seemingly carefree, positive attitude, and he's always the first to offer his help to anyone that needs it.
---

Jamie Zahner
Jamie is a cross between a grizzly bear and John Belushi, both in size and sense of humor. If there are kids on the trip they will immediately gravitate towards Jamie and his sense of fun. Jamie has worked on the Middle Fork and Main Salmon Rivers for over a decade and you will find him leading our 11 day Middle/Main Combo trips. Jamie is a skilled oarsman and the MFRE BBQ Master Marinade Maestro. Jamie lives in Victor, Idaho and works on the Ski Patrol at Jackson Hole in the winter months.
---

Gregg Blatter
Gregg has worked on the Middle Fork and Main Salmon Rivers for close to two decades and hales from Challis, Idaho. He is loved by all who have the pleasure to meet him and is calm presence. Gregg has an in-depth knowledge of the Frank Church Wilderness of No Return. Ask him just about anything and if he does'nt know the answer he's holding the book that does. Gregg is a favorite of all our guests, but then again all the MFRE guides are of the same thread, joined together by the touch of the wilderness.
---

Kate Stoddard
Kate has one single life goal: To develop unrivaled crows feet. One can tell a lot when looking into the wrinkled character of an aged face, and if crow's feet are prominent, it is a sign of a life well lived. Kate has never felt so at home as she does in the wilderness, particularly that of the Frank Church in the middle of her home state Idaho. Kate has worked as a river guide on the Middle Fork of the Salmon since 2008 and grew up boating with her dad who was a longtime Idaho river guide. Finding each day a unique gift as the Heraclitus said long ago, one cannot step into the same river twice. In this way the river has been Kate's greatest teacher in realizing everything is in flux, at the same time connected, as well as countless other lessons. She cannot conjure a better way to spend a summer than to introduce the wise sage in the river to the world at a point in human existence where nature can seem like a distant memory. Kate recently graduated from Montana State University with a bachelors degree in photography and a major in philosophy. Kate spent two months in the fall of 2010 working toward a teaching certificate for yoga in Dharamsala India as she hopes to share the lifestyle of yoga on the river.
---
Willis McAleese
Willis is from Challis, Idaho and grew up rowing drift boats on the Salmon River and started guiding Steelhead fishing in 1997. Willis runs our drift boats and is the go-to guy for anything fishing related on our trips. For 4 summers he worked in Alaska as a fishing guide before he finally wisened up and returned to Idaho where he has rowed over 150 Middle Fork trips in drift boats. His expertise is in fishing and Mckenzie drift boats will greatly enhance any fisherman's experience on the Middle Fork. Willis is as solid as they come on the water and a joy to be around at camp whipping up some amazing meals on the campfire.
---

Larry (McGoo) McGowan and Bev Angel
This last summer was Larry's 46th season on the rivers of the west. He started in Grand Canyon in the 60's and soon migrated to the Middle Fork and has worked here and lived in Stanley ever since. His partner Bev Angel has over 2 decades guiding experience on the Middle Fork as well. Both are excellent fishing guides so you will se them on our September fishing dates. All trip members who get the pleasure of having them on a trip always says they are one of the highlights of the trip.
---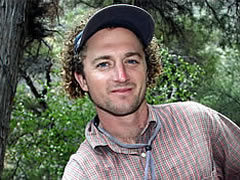 Rio Hibarger
Rio grew up in Arkansas riding hogs for sport and started river guiding in Colorado when he was 16. At the ripe old age of 33 has guided rafts and kayaks in Uganda, Zambia, Argentina, Nepal, New Zealand, Chile and Australia. He can run a sweep boat, a drift boat, a wood dory, a paddle raft or oar boat with incredible skills and has a strong intuition on reading water.
In 2005 Rio went to Cuba as a student and immersed himself in the culture as only he can. While in Cuba, one of his new friends wrote a song about his life. The chorus is: 'Rio's mama taught him to shoot a gun, skin a rabbit, how to get things done. He got tired of eatin' squirrel so he traveled around the world.'
Guests remember Rio for his amazing stories about growing up in Arkansas and traveling to some unique places. They also remember his great food, hard work, and his relentless competition in games like horseshoes and Koob. Rio used to spend his winters living in his sailboat until it burn down when his friend was boat-sitting. He is thinking of dropping out of school, building a boat, and sailing around the world. He spends the fall and spring working in the Grand Canyon and is an accomplished Dory boatman.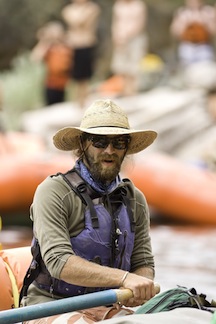 MARK MARTIN
Mark was born and raised in northern Maine: a place and culture where "going for a walk in the woods" is still a legitimate way to fill an empty afternoon.   He spent most of his free time fishing, hunting, canoeing, and skiing, and his dad taught him to flyfish and tie flies when he was eleven.  Several years of education and work in fisheries conservation led him to a realization that no wild river's heart and soul could ever be characterized by a series of equations….and right about then he discovered central Idaho and the Middle Fork.  It was, as they say, love at first sight.  Since then, his natural habitat has become the rower's seat of a drift boat. 
Mark ties all his own flies for fishing, sells a few, and brings a selection of favorites to the Middle Fork for each trip.   When not guiding for MFRE, he finds work as a fisheries and wildlife technician, a server at an off-the-grid backcountry restaurant, a landscaper, and a ski shop technician.  Somewhere in there he finds the time to fly fish obsessively for steelhead all over the Northwest, and explore Idaho's mountains on his skis...all while daydreaming about last Middle Fork season, and the next.